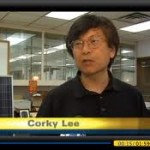 Corky Lee calls himself tongue & cheek "Undisputed, Unofficial Asian American Photographer Laureate."  According to the NY Times, he shoots photos so others won't be invisible.
He was particularly inspired by the photo of the celebration of the completion of the transcontinental railroad that included no Chinese in the pictures–despite their major role in building the railroad. He's been shooting pictures ever since.
Now his exhibition "Asian Roots/American Soil," is at  Stony Brook University through May 12. Among the photos, the one he considers his best. A photo of a bloodied Chinese American man being lead away by police during a march protesting police brutality.
"I beat out everybody, so for a stringer, that was a bit of a coup," he said.
"Whenever there's anything that's related to Asian America, he seems to be there," said Sunita S. Mukhi, the man who launched the photo exhibit at Stony Brook.
You can read s lot more about Corky in the NY Times.