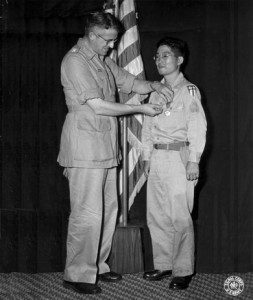 Roy Matsumoto saved hundreds of his fellow American soldiers during World War II, but he couldn't tell anyone about it.
He was ordered to be a hero in silence, forbidden from telling anyone about his heroics for 50 years.
Matsumoto was a member of the "Merrill's Marauders," a U.S. Army unit that worked behind enemy lines in Burma and suffered heavy casualties.
He's credited with screaming out instructions in Japanese, confusing the enemy Japanese. He also couldn't talk about the information he gathered for the Military Intelligence Service.
"Sometimes, I would think, 'Could I really be his daughter?' I can't keep a secret for more than a couple of days," said Karen Matsumoto, 60, a teacher.
The Seattle Times reports her father Roy died in his sleep on April 21, just two weeks short of his 101st birthday.
But thanks to a film her daughter produced, his heroics will live on well beyond his death.
Her 28-minute video, Honor & Sacrifice: The Roy Matsumoto Story, was done in collaboration with documentary producers Lucy Ostrander and Don Sellers. It's been expanded from its original 17 minutes.
"Roy's story was too fantastic to believe," Sellers said. "You couldn't make it up … and yet it was all true."
You can find out more about the video in the Seattle Times.