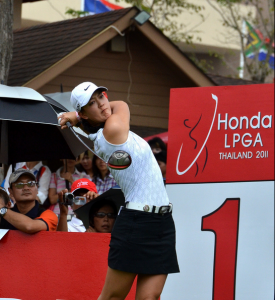 Michelle Wie won her first major championship, winning the US Women's Open by 2 strokes at Pinehurst, North Carolina.
Wie raised her hand in victory as the fans cheered and her mother ran up to hug her. Her entourage then doused her with champagne as she put her hand on her heart and appeared to cry.
The 24-year old Wie has put enormous pressure on herself throughout her career, choosing to play against the men earlier on in her career.
"I just had a lot of fun. I'm so grateful for this opportunity. I definitely had goosebumps walking up to 18," said Wie referring to the thunderous ovation from the gallery.
"There are moments of doubt. At the same time, I had so many people around me…never lost faith in me and pushed me forward."