Kalpana Chawla was the first Indian American in space. She died along with the other team members of the STS 107 Space Shuttle Columbia when it exploded.
Japanese American astronaut Ellison Onizuka died in the explosion of the Space Shuttle Challenger in 1986 with six other crew members. Onizuka Air Force Station in Sunnyvale, California is named in his honor.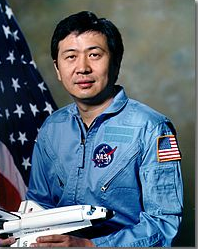 Taylor Gun Jin Wang was the first Chinese American in space aboard STS 51-B in 1985. Initially his experiment aboard the Challenger was a failure. NASA denied his request to repair his instrument, but he insisted and eventually completed the experiment successfully.

strong>RELATED STORIES
The Rapid Growth of Asian Americans
Richard Aoki Rose in Ranks of Black Panther Party

The First Chinese American Marine Officer‪