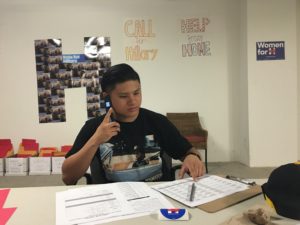 By Nick Lee
Chinese Americans for Hillary

My name is Nick and I am twenty-three years old, a fourth-generation Chinese American, and a proud Democrat. This blog will cover my journey through my first Democratic National Convention (DNC) in Philadelphia and also the first time my party has nominated a new candidate for president in my adulthood. During the Convention, I will be volunteering my time with the AAPI Media Center, a part of the larger DNC press operation.

One of the most interesting aspects of my work organizing and my first night at the DNC has been the diversity of volunteers in our Democratic AAPI community. The ethnic background of volunteers ranges from Chinese to Hmong, Indian to Indonesian and everything in between all striving towards a common goal of electing Democrats around the country.


Growing up Asian American, it becomes evident from an early age that inclusive spaces like these are neither easy to create nor easy to maintain. I feel very privileged to be a part of this even though I feel like I have much less experience than many others.

My introduction to politics was early, since my father was a political appointee in the Clinton administration. However I, like many others in my peer group, had my coming of political age when Obama was elected president in 2008. Seeing a person of color as president for the first time in high school was an edifying moment where I realized that there was a potential for a person who looked like me to rise to the highest levels of government.



As a part of AAPIs for Hillary, I have met many other passionate volunteers whose journey began much earlier than mine did. Some of the very first to welcome me on board were people that worked with my father two decades ago in the Clinton White House. It is impressive to me that these people are still on the frontline nearly 16 years later, and still striving to assist and train the younger generation like myself. Not all were as lucky as I was to have politics as casual dinnertime conversation, and I look up to those individuals especially because their passion is so organic and real.

It seems like Hillary's slogan "Stronger Together" is especially true of the Democratic AAPI community. Not only is our DNC crew diverse in our ethnicities and languages, but also in our backgrounds and the way and time we came to belong to the Democratic party. With all this diversity, it can be surprising that we work well together, but what I am realizing is that many of our stories are more similar than different. Many of us wanted to create easier lives for immigrants like our ancestors and ourselves. Many of us were brought into the fold by relatives, friends, or significant others. It is personal for us, and I am glad to be surrounded by this energy going in. I am extraordinarily excited for day one of the DNC, wish me luck!

(Nick Lee will be sharing his thoughts all week with AsAmNews readers. Last week, we ran the diary of an AAPI Trump delegate)
AsAmNews is an all-volunteer effort of dedicated staff and interns. You can show your support by liking our Facebook page at  www.facebook.com/asamnews, following us on Twitter, sharing our stories, interning or joining our staff.