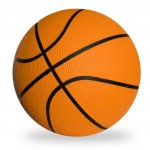 It was just for one night, but it was spectacular.  It was the return of Linsanity. Jeremy #Lin had that look, that feeling that nothing could stop him. He scored 38 points against the San Antonio Spurs.  But it happened when James Harden was on the bench with an ankle injury. The next night Lin came back down to earth. Now some are wondering if Jeremy Lin will ever get that look back when he's on the court with James Harden.
A recent article in NBA.com points out that Rome wasn't built in one day and neither were the World Champion Miami Heat. It took Dwayne Wade and Lebron James nearly 18 months to learn to play together. Give Harden and Lin some time. Because once they do, the Houston Rockets could turn from an interesting team, to a winning one.
What do you think? Can Jeremy Lin & James Harden work together or is there just not enough basketballs to go around?