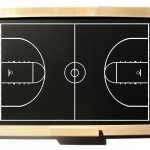 Chris Tang doesn't like the comparisons, but he's already being called the next Jeremy Lin. The 6'3″ point guard is just 16 years old and plays for his high school basketball team. But this is no ordinary high school. It's been compared to a basketball factory and has produced such NBA Stars as Keven Durant, Carmelo Anthony, Rajon Rondo & Jerry Stackhouse, reported Grantland.
The comparisons to Lin are obvious, but Tang would prefer to be compared to Dwyane Wade. "I want to play like Wade. An athletic guard who gets to the rim,"  Tang said. He grew up in the eastern coast of China and looked up to Yao Ming.
Jeremy Lin was never offered a basketball scholarship. What odds would you give for Tang to get offered one from a division 1 NCAA team?