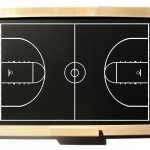 Carmelo Anthony may have to sit out Jeremy Lin's return to Madison Square Garden. Anthony did not play in yesterday's win against Cleveland because of a sprained ankle and sore knee, but the Knicks say there is a possibility he could be available for tonight's game, reported the Daily News.
This will be Lin's first game back to the Garden since signing with the Houston Rockets. Knick's fans showered former NY Knick's coach Mike D'Antoni with boos on his return, but most expect the fans to be more cordial to Lin.
"It will be wild," Lin said told the Houston Chronicle. "It will be fun. I don't really know what will happen, exactly."
What do you predict will happen in tonight's game? Jeremy Lin had a solid game in Houston against the Knicks, but the Knicks are undefeated on their home court. Will Lin be contained or will we get a glimpse of Linsanity?