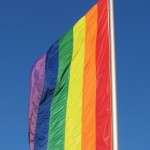 The lack of images of Gay APIs is troubling to some and API Equality is hoping to change that. It's encouraging gay Asian Americans & Pacific Islanders to tell their stories.
A UCLA study found there were over 66,000 LGBT APIs in California in 2008. 14,500 of them are in a same sex partnership. API Equality Los Angeles recently launched the Pioneer Project in an effort to document the stories of the early pioneers in their community.
One person said "The main thing is like visibility. I think that in the queer community, there aren't that many API images or people that you see who are represented in media, for example." The story on API Equality in the Huff Post  is part of a series of stories , 30 Days of LBGT Giving.