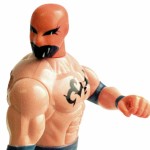 Kaimon Kudo was one of the good guys of wrestling. He weighed just 170 pounds and blended judo and jiu-jitsu into wrestling.
Heroes & Icons reports he just missed the cut for being named into the Pro Wrestling Hall of Fame. Kudo was said to be the most popular of Pre-WWII Japanese wrestlers and managed to retain his popularity even after Pearl Harbor.
Kudo was raised in Seattle and lived in the United States virtually all his life.  Despite that, there is a three-year gap in his career during the war years because he was Japanese.