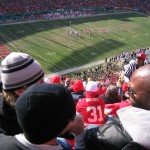 Starting Korean American offensive lineman and Nebraska Cornhusker Seung Hoon Choi hadn't heard about MVP Superbowl Champ Hines Ward until Choi started playing football in high school.
But he quickly learned how big the Korean African American superstar really is.
"He's a big-timer in Seoul. I followed him quite a bit. I heard he was thinking about going to Nebraska, too, " Choi told the Athens Banner.
He hopes Ward, a Georgia alum will watch the Capitol One Bowl when Nebraska faces off with Georgia on New Year's Day.