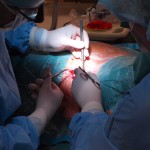 Many young in South Korea are turning to plastic surgery to emulate the looks of their favorite kPop stars, reports New American Media.
Plastic surgeons say their patients have gotten younger in recent years, with some specifically requesting features they see in their favorite KPop artists.
One plastic surgeon estimates 20 percent of his patients are under age 20. Some teenagers whose parents won't pay for their surgeries are coming up with the money themselves.
"The [pop] culture industry is so salient amongst these groups," Sharon Lee, associate professor of Social & Cultural Analysis at New York University said. "I don't think the plastic surgery industry in particular is targeting this age group, but I think it all comes together. Because of the culture industry, the younger demographics are engaging in [plastic surgery] more and more."