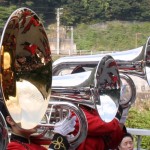 It's a bold experiment that has the makings of an international sensation. A California high school marching band from Valley Christian High School in San Jose invited a band from China to jointly apply for a spot marching in the Rose Bowl Parade on New Year's Day in Pasadena.
Hundreds apply for the parade, just 21 to get in. Valley Christian and Beijing's No. 57 High School will be among them, marching as one. They had to overcome so many obstacles. How do you rehearse with a band you never met thousands of miles away?
"It's a call to action, take charge of your life and follow your bliss. Sometimes, that would cause you to make unconventional chances," Tournament of Roses President Sally Bixby said of the Dr. Seuss-inspired choice.
 CNN shows how Valley Christian High School East-West Fusion All-Star Band plan to make it work.