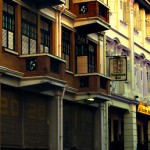 Chinese American heritage groups are calling for a delay in the demolition of an historic home that once housed Chinese laborers. The China House is considered the last remnants of Chinatown in Rancho Cucamonga, CA, reports the Mercury News.
The home is literally falling apart and has been deemed unsafe. But a delay would buy more time to come up with funds to rehabilitate the dilapidating structure.
"We understand the technical problems but there aren't any problems that can't be resolved withinour whole region," said Eugene Moy of the Chinese American Historical Society of Southern California. "We have many structures that did not meet seismic or current building codes, so we hope time can be given to provide for the restoration and protection of a very valuable historic resource, and we hope that there is some way that can be found to delay or rescind the red-tagging of the building."
City officials say they lack funds for the costly effort.
---