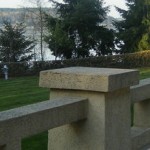 A Tacoma. Washington landmark destroyed by arson in 2011 has reopened after a 21 month $7 million dollar rebuilding project,  reports the  News Tribune.

The Point Defiance Pagoda was built in 1914 with an Asian influenced design. It served primarily as a stop for a streetcar line, but it also included a smoking room and marbled bathroom for men and a resting room, easy chairs and couches for women. Today it can be reserved for weddings, parties and meetings.
Most of the original materials were saved and reused for the rebuilding effort.
"We understood how many heartstrings are tied to this building," Metro Parks historian Melissa McGinnis said. "This building, even though it's a physical thing, is important to the people of Tacoma and Pierce County."