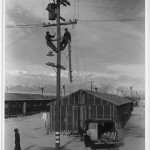 You may have heard the story of the 110,000 plus Japanese American rounded up in World War II and imprisoned in camp because of their nationality. But few people know the story of their return to civilization after the war was over.
A new exhibition at the Oregon Nikkei Legacy Center in Portland gives voice to that story from those still alive to tell it, reports the Oregonian.
Many returned home to find their businesses looted, Japantown deserted and their neighbors no longer talking to them.
"The environment made me not want to be Japanese," he says. "I regretted that later on." said Ed Tamiyasu, 71 and just a toddler when his family left Idaho's Minidoka.