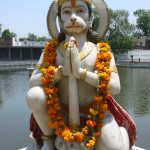 The election of Tulsi Gabbard to congress from Hawaii is historic on two fronts. Not only is she the first Hindu ever elected to Congress, a source of pride for the 1.79 million Hindus living in the United States. She also isn't Indian American. 94 percent of Hindus worldwide live in India.
At her inauguration, Gabbard used a Hindu religious text for her swearing in. "I chose to take the oath of office with my personal copy of the Bhagavad Gita because its teachings have inspired me to be a servant-leader, dedicating my life in the service of others and to my country," Gabbard said.
Gabbard was born in the US territory of the American Samoa, the first in Congress to be born there.
Despite not being Indian American, her election to Congress was noteworthy in that community as well.
"I don't think it makes a difference that she's not Indian," said Kinjal Dave, 17, a high school senior in Hillsborough, N.J told AP.

"I think it's the faith that matters."