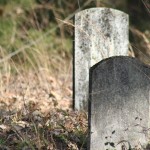 A segregated cemetery opened at a time when Chinese Americans weren't allowed to be buried anywhere else is slowly being restored by a dedicated group of volunteers in Fresno, CA , reports the Fresno Bee.

Its a shame to see plots that honor our grandparents and their ancestors before them overgrown with weeds, marred by graffiti and taken over by vandals. But that's the situation at Fresno Chinese Cemetery.
"The cleanup represents the spirit of the present Chinese community in caring for the dignity of our ancestors," said Eugene Wong, 83, whose father, Sam Sum Wong, was buried at the cemetery in 1949.
About 60 volunteers from the Chinese Benevolent Association and Chinese Youth Group worked on the cemetery yesterday.
"I think being here reinforces the idea that we should be proud of our culture," said 17-year-old Chloe Wong, youth group president.