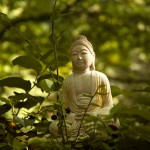 A master student at Graduate Theological Union and Institute of Buddhist Studies in Berkeley, California is seeking Asian American Buddhists to participate in a study on the experiences and opinions of Asian American Buddhists youth, reports Patheos.
Chenxing Han says its a perspective badly missed in any discussion on Buddhism in America.
She wrote: The aim of my MA thesis research is to gain a better understanding of how young adults of Asian heritage living in America engage with Buddhism. I was inspired to delve into this topic after noticing that I rarely came across the experiences and perspectives of young Asian American Buddhists in scholarly and popular literature about Buddhism. Personal visits to a diverse range of Buddhist temples and meditation centers have also motivated this research."
Those interested can contact Han here.