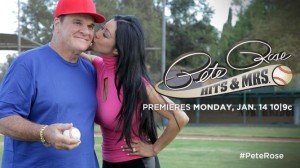 Seems like a prerequisite these day to having a reality show is a beautiful woman. Olympic decathalon gold medalists Bruce Jenner has his wife Kris  and all his stepdaughters, the  Kardashian girls. Now former major league baseball player Pete Rose joins the reality circuit with his fiance, former Playboy model Kiana Kim. Rose is 71 years old. Kim, lets just say,  is a lot younger than that.
Rose is banned for baseball for betting on games while managing the Cincinnatti Reds. He was a guaranteed Hall of Famer until the scandal about his gambling habit became public.
The show is called Pete Rose, Hit & Mrs. and according to a review in Rok Drop, this show is a miss. The preview show included some ethnic humor at the expense of the Korean Miss Kim. Jokes about Kim's breasts also make it into the show. Pete Rose, Hit & Mrs begins Sunday night with a two part episode on TLC.