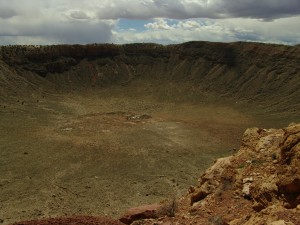 A tourist attraction in Arizona turned into the site of a rescue effort after an Indian American jumped more than 100 feet down into Meteor Crater, a meteor impact site in Northern Arizona.
Indian Express reports the man from Union City, CA told rescuers he jumped in to the mine shaft to appease the gods. He's been identified as 28-year old Parminder Singh.
A park ranger witnessed Singh jumping in and immediately launched a rescue effort which lasted eight hours in strong winds and freezing temperatures of below 20 degrees.
Rescuers had to hike 1 mile to get to Singh who told authorities he thinks he dislocated and broke his right arm, broke one of his legs, and complained of severe pain to both of his legs.
"As rescuers reached the opening of the shaft, they found it to be surrounded by a seven foot fence topped with several strands of barbed wire. Rescuers were forced to cut their way through to the mine shaft. Personnel learned the suspect fell a vertical distance of more than 100 feet to the bottom of the shaft after he jumped," a statement from the  Coconino County Sheriff Office said.
Full details of the rescue effort are in the   Indian Express.