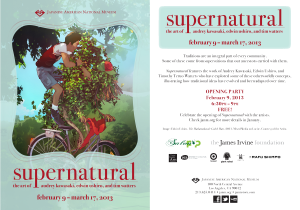 You would expect an exhibition called Supernatural to be out of the ordinary, maybe out of this world. Judging from pictures I've seen of the upcoming exhibit on Arrested Motion, that's exactly what Supernatural at the Japanese American National Museum in Los Angeles has accomplished.
The exhibit features three artists–Audrey Kawasaki, Edwin Ushiro, and Timothy Teruo Watters.  I'm not an art expert, but just judging from what I've seen on line from a purely audience point of view, Kawasaki's paintings using oil, acrylics and graphics bring modern sensibilities to an old style art form. Edwin Ushiro's use of color and imagery are vivid and sensational and Timoth Teruo Watters pop art will both amuse and make you think.
The Japanese American National Museum has said it hopes to bring in a new audience into the museum with exhibitions that have a younger more energetic feel. They may have hit the mark with Supernatural. It opens on February 9th.