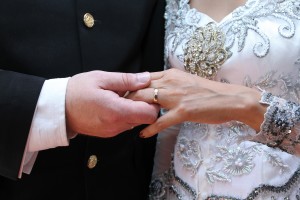 World Ice Skating champ and Olympic darling Michelle Kwan married Clay Pell Saturday in a ceremony performed before 240 family and friends, reported People.
Pell is on the National Security Staff at the White House. The couple married at First Unitarian Church in Providence, R.I.
Her father walked the tearful Kwan down the aisle. She wore a Vera Wang dress.  Among the guests were Olympic champions Brian Boitano, Dick Button and Dorothy Hamill.
After her engagement, Kwan was quoted as saying, "I never was one who believed in love at first sight, but I have to admit it happened for us. I felt there was a magnetic connection between us. I thought he was the one from the beginning."