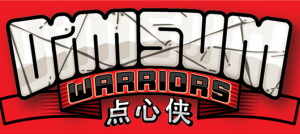 Dim Sum Warriors is a comic book, an iPad app, a book. They're Chinese food items that walk and talk in two languages. Its the newest ways kids are learning a foreign language, reports PRI.
Yen Yen Woo and Colin Goh are the creators of Dim Sum Warriors.
"We felt especially because we were bringing up a daughter in America we wanted something that would represent her mixed-up cultural heritage," says Goh.
"It's like you're doing two things at once but you don't even know," says third grader Finn Myers. "You're learning the language and reading."
Kids like the food-like characters and have even suggested their own characters.
" They all said 'what about scallion pancakes…and spring rolls?'" says  Yen Yen Woo. "They also said teachers should have them read it just before lunch because it's going to make them very hungry.
"A lot of the comics in the past have portrayed Asians in this stereotypical way, like you're either dragon lady or the mysterious Zen master," says Woo. "We really wanted our child to grow up being confident of her own culture and to see all these character as being part of the universe."