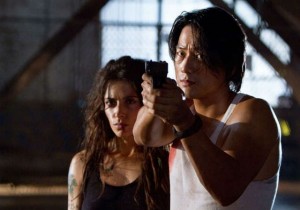 It's not often you see Asian American actors, especially men, playing strong roles. So when one comes around, its a reason for anticipation.  Here's hoping Bullet in the Head starring Sylvestor Stallone and Sung Kang is that Hollywood breakthrough movie we've been hoping for.
Kang plays Washington D.C. detective Taylor Kwon who teams with hitman Jimmy Bobo (Stallone) to track down the killer of their respective partners. The movie debuts in the United States this Friday.
"My character figures out that there's a connection between the deaths of our former partners," said Kang to GMA News.  Taylor lives by this real rigid code of honor and a moral integrity that's been ingrained in him. He wants the entity behind the hits, so he's willing to team up with Jimmy to chase down the bad guys, even though he knows Jimmy is a criminal himself."
 Kang says one of  the first movie he ever saw was Rocky and called the chance of working with Stallone "a pretty amazing experience."
 This movie was originally suppose to debut last year, but its release was delayed. Screenrant reported last year the movie has gone through extensive rewrites by Stallone and that the veteran actor even took over the editing.  Those are all signs that the studio doesn't expect this movie to be a huge hit.
 Sung has an impressive list of films he's been in and you can find out more in this article from
GMA News
,