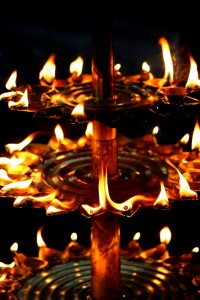 Three Congressional Representatives have introduced a resolution asking the US Postal Service to issue a postage stamp marking the popular Indian festival, Diwali, reports India West.
Diwali or Festival of Lights is one of the most important celebrations of the year for Hindus. It is celebrated by families and marks the end of the harvest season for most of India.
Rep Ami Bera (D-California) along with Congresswomen Carolyn B Maloney and Grace Meng, both Democrats from New York, introduced the resolution. The U.S. Postal Service has issues postage stamps marking other religious holidays such as Christmas, Kwanzaa, Hanukkah, and Eid, but never Diwali.
"Despite the significance of this holiday, the United States Postal Service has yet to merit Diwali with the same recognition as other major religious holidays," said Maloney. "It is long overdue that we honor this significant holiday with a postage stamp of its own."