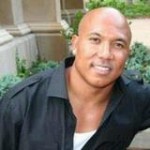 The first Korean American Superbowl winner,  Superbowl MVP and Dancing with the Stars Champ Hines Ward has been awarded the Dapper Dan Lifetime Achievement Award, according to the Pittsburg Post Gazette.
Ward is currently training for the Ironman Triathalon and works as a broadcast analyst for NFL Sunday Night Football and Notre Dame football. He's had no problem staying busy after retiring from the NFL
"I've always wanted to be known for more than just being a football player," Ward explained. "I've always wanted to think outside the box. Of course, you're going to miss football and the competitive side, but I wake up a lot easier on Monday."
Ward chose to retire rather than sign with another team after being released by the Pittsburg Steelers.