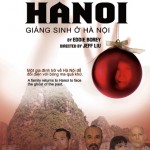 The East West Players of Los Angeles will present the world premier of Christmas in Hanoi next week, according to Broadway World.

The joint production of the Multiracial Americans of Southern California (MASC) & the Vietnamese American Arts and Letters Association evolves around a mixed race family's first trip back to Vietnam since the war. The family finds upon their return that they are haunted by by their own family's ghosts and by the phantoms of Vietnam's long history.
It is written by Eddie Borey and directed by Jeff Liu. The play won the East West Players Face of the Future Playwriting Competition.
"MASC commends the creative minds and hands behind the play CHRISTMAS IN HANOI. We are so pleased to see East West Players representing the mixed-race community through this work and also providing a platform to discuss topics related to our community," says Farzana Nayani, President of MASC. "