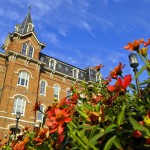 A series of events at Purdue University sponsored by the Asian Pacific American Caucus student group will explore various cultural issues facing Asian Americans at Purdue, reports the Purdue News.
A roundtable discussion on February 5,  "Being Asian & Asian American at Purdue" will feature a panel of Asian American faculty and students. including Ei-Ichi Negishi, the Herbert Brown Distinguished Professor of Chemistry and 2010 Nobel Prize winner.
The next day the focus turns to "College Racism: Racist vs. Racial Humor."  and will look at ways students can respond to racist humor on campus.
Then on February 7, it's art and culture with "Reflections on Asian American Performance Onstage and Offstage."
Finally on February 8, "Building Asian American Studies from the (Frozen) Ground Up: Motivation, Machination, Maintenance."