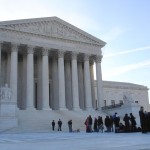 The Asian American Legal Defense and Education Fund along with the Asian American Justice Center filed a Supreme Court brief today on behalf of 28 Asian American groups defending the Voting Rights Act, reports WBRI,  The groups are fighting a challenge to section 5 of the Act which ensures that any proposed new voting rules do not discriminate or disenfranchise minority voters.
"Section 5 of the Voting Rights Act has enabled Asian Americans to challenge discriminatory voting changes," said Margaret Fung, executive director of AALDEF. "AALDEF submitted comments to the Justice Department on three voting changes that were ultimately denied preclearance under Section 5. As Asian American political participation continues to grow, this key provision of the Voting Rights Act must be upheld to ensure the full and equal participation of all voters of color in the electoral process."
The Supreme Court will hear oral arguments in Shelby County, Alabama v. Holder February 27.