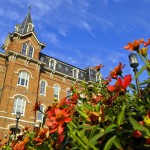 A panel of Asian American students and faculty at Purdue shared their stories of finding their cultural identity on American soil. The forum kicked off a week long series of events on campus spotlighting the Asian American experience, reports JConline.com.
One panelist says his identity is made up of a nice blend of "we's"
"We the veterans, we the Koreans, we the Hoosiers, we the Asian-Americans." said Song No, director of Latin American and Latino Studies and Purdue.
Becky Wong, psychologist at Purdue Counseling and Psychological Services, said she has often been made to feel like an outsider, that she should leave and "go home." But Wong simply said "I have no other home."
Another said "We want it to be a safe space for students to explore their identity,"