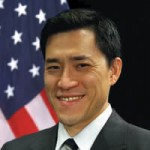 President Obama has nominated Raymond Chen to the US Court of Appeals, reports Asian American Press
Chen has worked since 2008 as Deputy General Counsel for Intellectual Property Law and Solicitor for the US Patent and Trademark Office and is very familiar with the Court of Appeals.  He argued numerous cases before the Court as an Associate Solicitor for the Patent Office.  He also worked two years as Technical Assistant at the U.S. Court of Appeals for the Federal Circuit. He graduated from the New York University School of Law and received a B.S. in Electrical Engineering from the University of California at Los Angeles.
Chen's nomination was announced by Obama at the same time as the nomination of Todd M. Hughes.
"Chen and Hughes have displayed exceptional dedication to public service throughout their careers," President Obama said. "I am honored to nominate them today to serve the American people on the United States Court of Appeals. I am confident that they will be judicious and esteemed additions to the Federal Circuit."