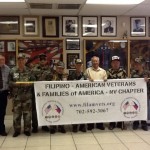 A Federal Appeals Court in San Francisco has ruled against a group of Filipino American World War II veterans fighting for their benefits, reports the SF Chronicle.
In 2009, the US granted the veterans partial benefits, but required documentation that the veterans say was destroyed in a fire at a federal registry in St. Louis.
The group sued the following year, challenging the documentation requirement and another that denied benefits to surviving spouses of Filipino American veterans.
The Appeals Court said it found no evidence of discrimination. An attorney for the veterans says he will appeal to the US Supreme Court.