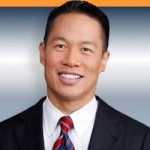 MSNBC News anchor Richard Lui wrote in a recent piece for the SF Chronicle that he is the "grandson of illegal immigrants, " a paper son  and paper daughter who came under a false identity after the 1906 San Francisco earthquake and fire destroyed many immigration records.  Richard's family name is actually Wong, not Lui.
His point in writing the piece was to demonstrate that immigration reform is not only a Latino issue, it is also an Asian issue. In fact Lui's family story is not unusual in the Chinese community. It's estimated that 15 percent of all Asian immigrants to the United States came here without documentation. That translates into 1.3 million people. About 100,000 of them are dreamers. Even today, its estimated that 50,000 Irish immigrants are also undocumented.
Lui's argument is that Hispanics, Asians and Irish Americans have common interests when it comes to immigration reform. The United States is a country built by immigrants. It formed the foundation for this country and must not be forgotten as we move forward.