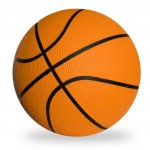 Add Jeremy Lin to the long list of athletes who have appeared in commercials for ESPN's Sportscenter. The ad which debut today plays off Lin's book smarts and basketball acumen. The point guard helps ESPN anchor Jay Crawford draft a script for an upcoming sportscast.
Judging from Lin's less than conversational copy, he probably should stick to basketball.  Ultimate Rocket reports the commercial is the latest in a long line of parodies with athletes produced to help promote Sportscenter.
It was produced by the Wieden + Kennedy New York ad agency. You can see the ad here in the Ultimate Rocket.