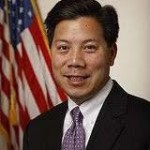 White House Cabinet Secretary Chris Lu is leaving the White House after nearly 10 years working under Barack Obama, first running the then Senator Obama Legislative Agenda, then onto the White House.
The pair have been together so long, the President has asked him to stay on in another position. Lu doesn't rule it out and says he'll consider it once he gets some rest.
The  Harvard grad who co-chaired the White House Initiative on Asian American and Pacific Islanders looked back with the Wall Street Journal on President Obama's connection with the Asian American community.
"The original chairs were Secretary of Education Arne Duncan and Secretary of Commerce Gary Locke, but when Secretary Locke was named Ambassador to China in 2011, the President asked me to take over his role, and it became one of the most fascinating and fulfilling parts of my time in the White House," says Lu. "And over the past few years, I think the significance, relevance and power of Asian Americans has really dawned on people."
Lu says he firmly believes President Obama was the nation's first Asian American President. He outlined his reasons why in the  Wall Street Journal.