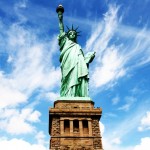 We are a country  made up largely of immigrants. From the pilgrim settlers to Indian Americans, we or our parents, grandparents or great grandparents before us, came to the United States for greater opportunity and a better life.  Although I'm sure many would disagree, it might be argued that even African Americans are a people of immigrants–forced and unfortunate as it was.
So an idea suggested by the blog Reappropriate makes sense. Jenn of Reappropriate has launched a White House petition calling for a Federal Immigrant Day Holiday.
Jenn wrote: "America is a nation founded by immigrants, including many of the very Founding Fathers who first established this country. The very fabric of America is intertwined with immigration and the immigrants who have shaped and changed what it means to be American in America. In fact, I would argue that first-generation immigrants offer among the most inspiring stories of the American narrative."
The idea for a federal immigrant day holiday was inspired by another White House petition currently circulating. At last count, more than 38,000 people have signed on to support the idea for a Lunar New Year Holiday. Although most commenting about the Lunar New Year holiday  on this blog appear to oppose the idea.
So what do you think. Would you support an Immigrant Day holiday?  Would the income generated from added spending on this holiday make up for the loss revenue of some companies paying for that additional off day? What if Immigrant Day was held on a Saturday? So it wouldn't be a holiday, but a day to celebrate the contributions of all immigrants? Let AsAmNews know what you think.