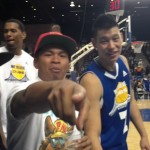 From the Chinese youth orchestra playing the national anthem to the loud reception from Bay Area fans greeting their hometown hero, it was a good night for Jeremy Lin. reported Reuters.
The Houston Rockets point guard scored 14 points and dished out 10 assists and the Houston Rockets beat the slumping Golden State Warriors 116 -107.
Lin commented on Linsanity during a post game interview before thousands of Asian American fans on Asian Heritage night.
"If anyone calls me any Lin puns," he said in a post-match interview, "we're not going to be friends or family anymore."
Game highlights on ESPN.