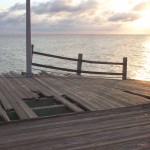 Filipino American nurse Menchu DeLuna Sanchez was invited to sit with First Lady Michelle Obama during the State of the Union, reported NorthJersey.com. President Obama reached out to her to recognize her efforts during Hurricane Sandy.
Sanchez organized the effort to move 20 critically ill babies from intensive care to safety at other hospitals, carrying the babies down 9 flights of stairs with  cell phones as their only light source.
"I'm very, very excited," she said Monday. "This is a dream come true for most people — to meet the president — and I never thought I would get this chance. I voted for him twice and I've been following Michelle Obama's philosophy for years as first lady. I can't wait." she said before Tuesday's State of the Union.
Her trip to the Capital also included a special visit to the White House where the president honored Americans for their humanitarian efforts.
You can read a lot more about Sanchez' visit at NorthJersey.com