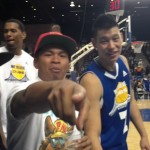 Jeremy Lin hosted an All Star weekend gala Thursday night to launch his new foundation. Among the NBA players attending the red carpet event to lend their support were Current NBA players Chandler Parsons, David Lee, Tyson Chandler, Stephen Curry, Steve Novak and Joakim Noah and retired Rockets center Yao Ming
 Lin says he wants to use his fame and good fortune to do good for others, reported
Fox News
via the Associated press.
"I've learned to understand what it means to have a platform and how to use that the right way," Lin said. "I'm still learning what that means every day. I feel like this is a step forward in being able to use the attention that we (NBA players) are given from society to be able to bring it upon other people in need.
"I figure, if you've got a lot of cameras around, you might as well say something worthwhile."
Right now his foundation will support three Houston based groups, but he hopes to expand the Foundation into the San Francisco  Bay Area where he grew up.