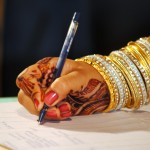 Imagine a Korean American marrying an Indian American and you would have a bi-cultural wedding. But the nuptials of Rishi Porecha and Jean Song was a lot more than that.
The couple had two ceremonies, an Indian ceremony and a western ceremony. An American Hindu priest presided over both ceremonies.
Jean's best friend is Bangladeshi American and her husband is Lebanese American. Rischi's sister also married an East Asian American.
But words don't do this multi-cultural wedding justice. Check out these wedding photos in the Illume.