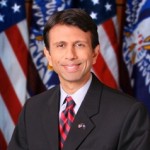 GOP Presidential hopeful Governor Bobby Jindal (R-LA) has suffered a huge drop in the polls, reports Link.
The Louisiana Governor has an approval rating of just 37 percent of state voters, according to a poll done by the democratic firm Public Policy Polling.  That's down from 58 percent in a similar poll done in August 2010.
603 voters were surveyed in Louisiana between February 8 and 12 via automated phone calls.
Recently Jindal made news by calling on the GOP to stop being the "stupid party." He was extremely critical of Republicans after the 2012 presidential election for what he considered to be extreme comments that alienated minority voters. The minority vote is widely considered the reason President Obama was elected to a second term.
Jindal has been considered an early frontrunner for the 2016 GOP presidential nomination, but a recent poll may put a damper on those prospects. That poll also done by Public Policy Polling put Jindal behind fellow republicans Florida Gov. Jeb Bush, New Jersey Gov. Chris Christie, former Arkansas Gov. Mike Huckabee, Kentucky Sen. Rand Paul, Florida Sen. Marco Rubio and Wisconsin Rep. Paul Ryan in a hypothetical GOP primary, according to the Huffington Post