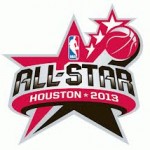 It'll be the battle of the Texans tonight on day 2 of NBA All Star Weekend in Houston, reports NESN.
The Houston Rocket's Jeremy Lin will try to dethrone San Antonio Spur Tony Parker in the 2013 skills competition in Houston. With his hometown Houston crowd cheering Lin on, this could be an exciting match up– the savvy veteran with championship rings versus the popular international sensation with the hearts of the fans.
Lin's inclusion in the skills competition is a tip of the hat to the host city of Houston and an acknowledgement of Lin's over the top popularity. Despite posting good but not all star numbers this season, Lin placed third in fan voting for the two starting guard spots for the Western Conference. He came within 45,000 votes of wrestling the number two spot from Chris Paul of the Los Angeles Clippers.
Lin and other Western Conference participants in tonight's All Star weekend events will be competing for $350,000 for charity.