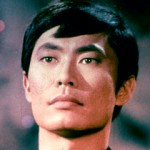 Fans of George Takei have seen or read his comments numerous times on the incarceration of Japanese Americans during World War II and for his support of gay rights. But just when you think you've heard it all from Takei, the actor and social media juggernaut finds a new way to spin his tale.
Takei talked in length to the Saratogian about his memories as a child spent in the incarceration camps at Santa Anita Park in Arcadia, Tule Lake and Rohwer, Ark., during World War II.
He was just 5 at the time when two sentry guards came to haul he and his family away. Life in the internment camp for Takei became a way of life. He didn't know anything different at the time.
"I remember the searchlight that followed me when I made the night runs for the latrine, but I thought it was kind of nice that they lit the way for me to pee," Takei said.
You can read a lot more about Takei's experience at the camp and his transition to social activism in the Saratogian.