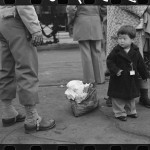 Japanese Americans in the San Francisco Bay Area today will mark the 71st anniversary of the Executive Order that sent 120,000people to incarceration camps during World War II, reports Patch.
A Day of Remembrance is being held in San Francisco's Japantown today to mark the historic occasion. Organizers say this event is as much about the present as it is about the past.
"Our story is connected to the stories of other communities as well," said Rev. Michael Yoshii, who has worked to build alliances with the Muslim community.
"We need to be vigilant about protecting civil liberties."
Japanese Americans incarcerated in one of ten prisons in the United States were among the first to speak up for the civil liberties of Muslim Americans after 9/11.
"For us, there was another narrative," Yoshii said. "We had seen something different because of what happened to our families in World War II."
Also among the speakers will be Japanese Peruvians who were kidnapped by U.S. Forces and forcibly removed to the United States.  More on that untold story in this article in Patch