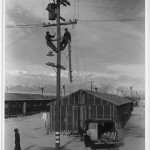 Scores of Japanese Americans joined together with Muslim and Arab Americans in San Jose, CA last night in a somber candlelight vigil in a Day of Remembrance, reports the  San Jose Mercury News
When news broke out about the burning of a mosque in Joplin, MO and the killings of six people at a Sikh temple in Oak Creek, Wisc, it brought back memories in the Japanese American community when they too were persecuted and imprisoned simply because they looked like the enemy.
The community sees a connection between the incarceration of Japanese Americans in prison camps during World War II and what's happening to Muslim and Arab Americans.
" We have common issues in terms of justice, equity and fair treatment under the Constitution," said Congressman Mike Honda, D-San Jose, speaking about the bond felt among Japanese, Muslim and Arab Americans
Others echoed the congressman's thoughts.
"As Americans, we have a moral responsibility to defend our neighbors, our friends, our classmates and our community when they are the targets of discrimination," said Will Kaku of the Nihonmachi Outreach Committee, which sponsored the event.