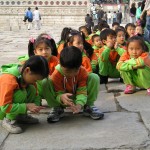 Children at Claire Lilienthal School in San Francisco celebrated Seol Nal the Korean Lunar New Year, with traditional costumes and customs.  A pretty photo essay in the SF Gate shows children in bright, colorful Korean clothing. They played Korean games such as tuho and the Korean version of hackysack, jegichagi.
The students are part of a Korean immersion program at Lilienthal.  The Korean Lunar New Year officially began yesterday.
You can see the slideshow here at SF Gate.