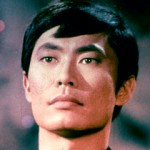 George Takei is better known for his activity on social media these days than his groundbreaking role as Sulu on Star Trek.
The 75-year-old actor spoke to students at Cal State Pomona about using social media for good.
Less anyone question his credentials, Takei has 500,000 twitter followers and 3.5 million likes on Facebook.
He used social media to build an audience for his musical "Allegiance- A New American Musical." It's the story of how the incarceration of Japanese Americans tore a family apart–one side choosing to risk their life and enlist to fight for the U.S. in World War II. The other refusing to pledge their allegiance to the United States for sending them to incarceration camps without due process.
"We wanted to tell that story … we needed to develop an audience beforehand and so I started
Facebooking and Tweeting essentially to my core audience, which are science fiction, nerds and geeks, and build that up," Takei told the Daily Bulletin.
Once he had his audiences attention, he began promoting Allegiance to his audience. It worked. The play broke box office records at the Old Globe Theater in San Diego and now Takei is working to get the play produced on Broadway.
You can read more about Takei's use of social media in the Daily Bulletin.