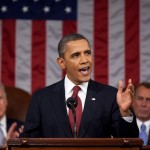 It has been written that Barack Obama is the nation's first Asian American president.  It's said that his Hawaiian roots and multi-cultural family are bonds that connect him to Asian Americans.
One Indian American teen may agree with that. Nitisha Baronia wrote in India West that the president is a role model to follow.
She called the President's reelection "evidence that any citizen with enough drive and determination can become the president of the nation and succeed at it.  Obama's reelection gives Indian American teens like me a model to follow. America has evolved into a nation so diverse and so tolerant that I don't have to worry about my race ever becoming a hurdle to my success."
While the enthusiasm for President Obama is no where near the high that followed his first election, its good to know that at least one teenager has a role model to follow that's known for more than just a hit record, a touchdown or model-like looks. If kids can identify with more people that inspire them to a greater good, then we'll all be better for it.