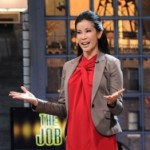 These are anxious times for popular TV Host, Lisa Ling.  The host on OWN TV and CBS's new show the Job are expecting their first child any day now, a baby girl.
"We're doing a partial green nursery and trying as hard as we can to do as much organic stuff for our nursery as we can," Ling told US Magazine. Despite the green theme, she's torn on whether she will go 100 percent cloth diapers implying she doesn't know if she can fully make that commitment.
She admits her husband Paul Song has been spoiling her by cooking great meals for both her and the baby. Ling's last pregnancy ended in a miscarriage in 2010.